EMP Token Sale
Laying the Foundation
---
A journey of a thousand miles starts with the first step. Join us on the journey. Your input, skills and passion are important to us.
Build a better future by participating in the Public Token Sale
 Our Token Sale Has Ended
Token Sale participants can claim EMP Tokens from the 15th of April up to the percentage proportionate to the amount of elapsed time (more details to come)
Please stay tuned on our social media channels over the next couple of weeks, for more information and details around the EMP token claiming process
EMP Token
---
Total Supply of EMP:
200,000,000 EMP
EMP token policy ID:
6c8642400e8437f737eb86df0fc8a8437c760f48592b1ba8f5767e81
---
Dates
---
15 April, 2022:
Start of token claim process
---
Vesting
---
For an overview of our tokenomics and vesting schedule, please refer to the infographic below: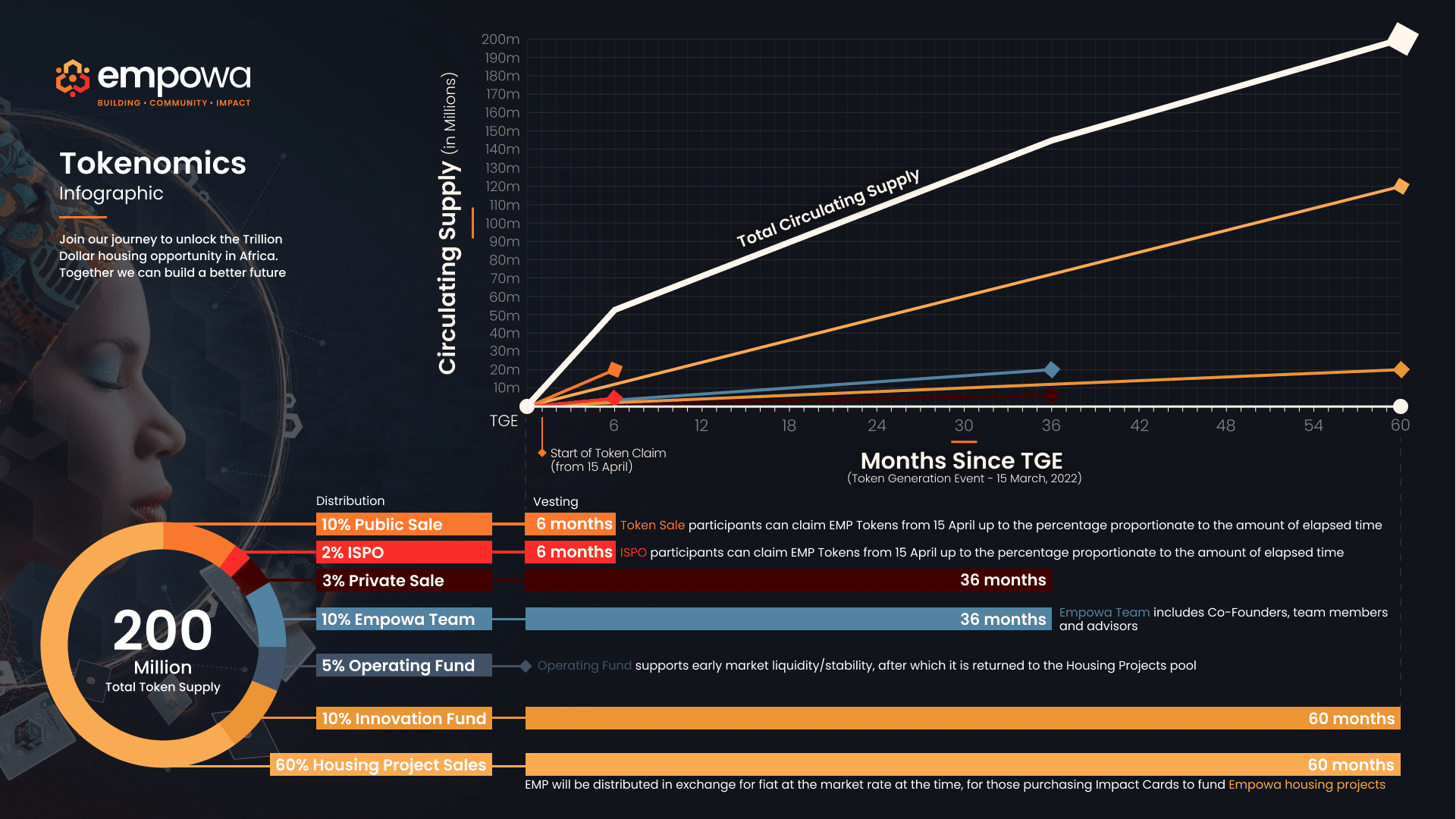 Community 
---
Have questions? Our community support is ready to help.
Tokenomics
---
After an extensive consultation period with both the community and tokenomics advisers, we are happy to release the final version of our Tokenomics document.  Aligned with our core values, we believe it provides a fair and equitable token distribution model, with release schedules to help protect token holders. Click the image or button below to download it. The document describes the token distribution, token sale amounts, individual purchase limits and priority access eligibility.
Frequently Asked Questions
---
Everything explained in the Token Sale FAQ section
Token Utility
---
Watch our short explainer video to learn about the Empowa Token and its utility in the Empowa platform. For more information on the Empowa platform and token download our Whitepaper.