Empowa ISPO
Empowa ISPO Ending Soon
(end of epoch 335)
We are excited to announce that the Empowa Initial Stakepool Offering (ISPO) will be ending at the completion of epoch 335 (1st May, 9.45pm UTC). This means the ISPO will run for a total of 40 epochs.
As we near the end of this chapter, we extend a big thank you to everyone who joined our journey and participated in our ISPO – we appreciate all of your support!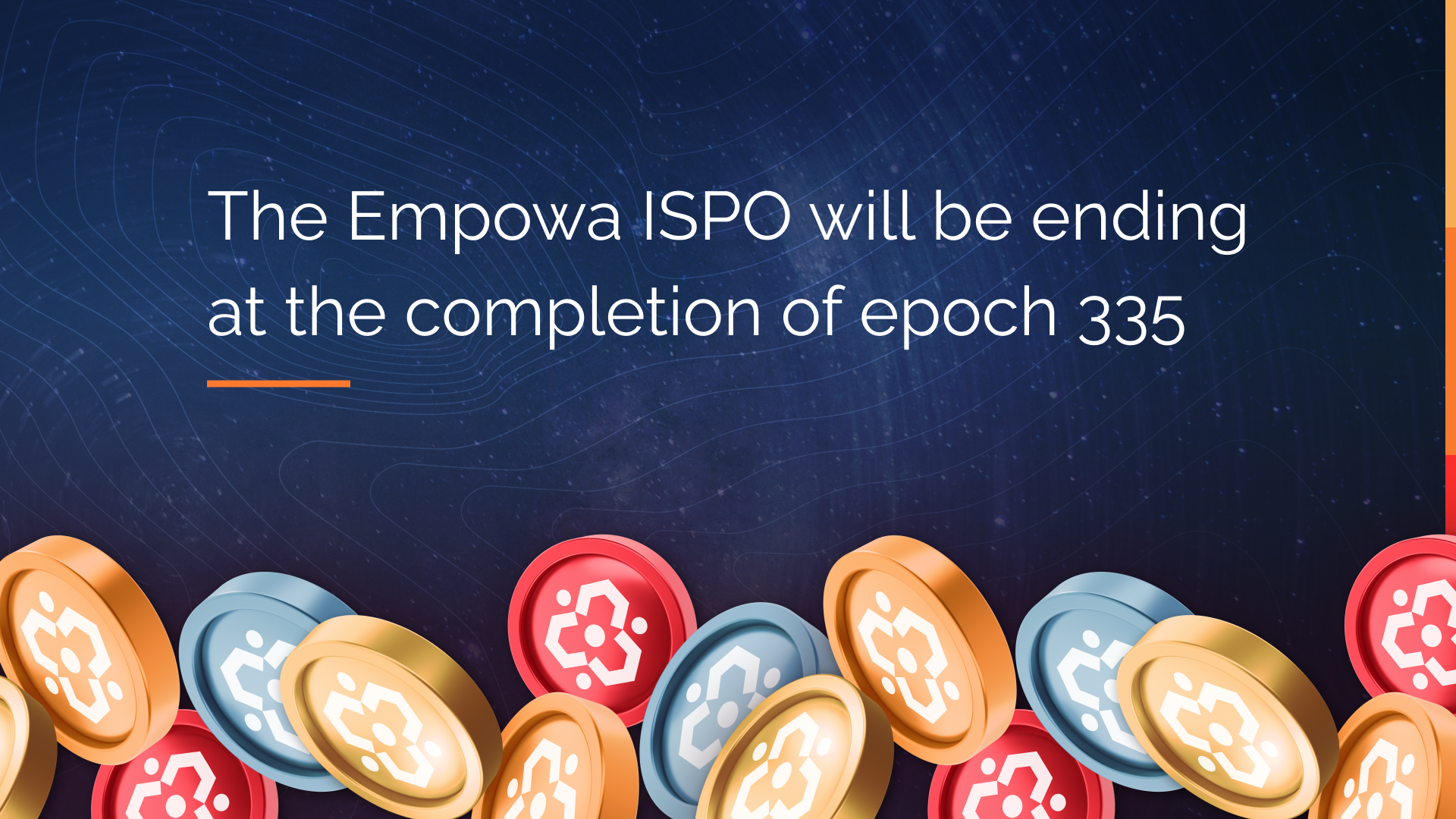 When does the ISPO end?
The ISPO will end at the end of epoch 335. Some of the EMP remaining from the public sale will be used to top up the ISPO for rewards earned over the original 4 million EMP allocation.
What is happening to the EMP1 and EMP2 pools after epoch 335?
From epoch 336, the 2 original ISPO pools (EMP1 and EMP2) which are operated by 'Smiles on Africa' and 'Proof of Africa' respectively, will continue to remain open, however each pool will be changed to a fee of 1.9% with a new stake pool ticker (to be confirmed closer to the time).
If you continue to delegate to these pools from epoch 336, instead of being eligible for EMP, you will receive ADA rewards like other standard Cardano stake pools. Any ADA received from pool fees will go to the respective stake pool operators (Smiles of Africa or Proof of Africa), which will continue to help support the great work both projects are doing in Africa. We also want to make it clear that from epoch 336, Empowa will NOT receive any additional ADA from these pools.

How will the ISPO tokens be distributed?
We will be partnering with DripDropz to distribute the EMP tokens from the 15th of April. There will be a custom DripDropz claiming process to allow for Empowa ISPO participants to claim their eligible EMP based on the 6 months linear vesting schedule. More details on this will be shared soon.
To learn more about Empowa and the $EMP token, feel free to check out the links below:
Whitepaper
$EMP Explainer Video
Tokenomics doc
FAQ page (we will continue to update this overtime)
To keep up-to-date with the latest community discussions, please feel free to join our community channels below:
Discord
Telegram