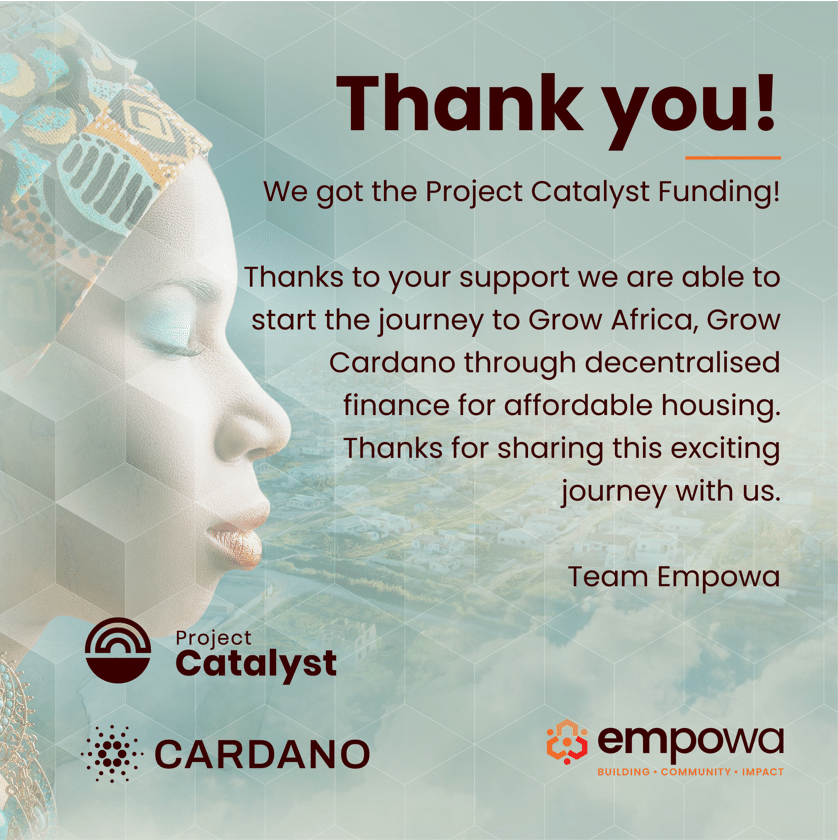 Update: We got funded!
---
We received funding for our Project Catalyst. Keep checking back here to see how we progress on delivering on our Catalyst Fund5 promise!
Exciting Market Potential!
25k Units in the current housing production per annum for upper and middle income earners.
45% of lower income groups can afford market-based climate resilient housing solutions (Empowa Market Study)
Total Addressable Market is 4 million housing units
Fund5 Proposal
Beira, Mozambique
2021
1. The Problem: Extreme Circumstances
Mozambique is one of Africa's poorest and most vulnerable countries to climate change. Located on the south-eastern coast of Africa, it is constantly exposed to a number of extreme weather events including droughts, floods and tropical cyclones.
Photo: Cyclone Idai, Mozambique, aftermath, 15-16 March 2019 (Denis Onyodi: IFRC/DRK/Climate Centre).
Most houses in Mozambique are not built cyclone proof.
2. Challenges: Undeveloped Financial Sector
Mozambique only has 600 home loans in a country of more than 30 million people. As income is largely informal and difficult to measure it is challenging for most people to secure a home loans through a traditional bank.
More than 1 billion Africans don't have a permanent roof over their heads
The current shortage of homes in Africa is 50 million
Mozambique has 600 home loans in a country of over 30 million people
The home loan interest rate in Zimbabwe
3. Objectives:
Empowa works with affordable housing developers, at any stage of development, who can present credible and viable business plans and that
make an impact in their local affordable housing sector.
The partner Empowa has chosen to work with for Project Catalyst is Casa Real from Mozambique. Casa Real wants to partner with Empowa to
"green" its housing offering for their lower income clients, those with a monthly income ranges of 250-750US$. In the last few years Casa Real
has been showing that an inclusive approach to affordable and climate-smart housing is possible, even in a country like Mozambique
By using an incremental housing approach

Casa Real

lowered the cost of the cheapest newly built house on the market from US$55 000 (which was affordable to just 1.2 percent of the urban population) to US$ 10.000, as was confirmed in research by

CAHF | Centre for Affordable Housing Finance in Africa


By partnering with local banks, primarily

Absa Bank Moçambique

, and opening up the market to those that earn even onlyUS$ 200 per month,

Casa Real is deepening the access to affordable housing
even further.

Through our Project Catalyst campaign we plan to:

Enable Casa Real to develop the first circular and CO2 negative, affordable home in Mozambique.
Prove market acceptance for this environmentally friendly and cyclone-proof building method.
Work with a large commercial bank to develop a lease-to-buy model for these structures.
To give someone financially excluded access to a structurally secure and environmentally friendly home.
A special client contract signing moment. This Casa Real client was blinded in a work accident. Fortunately, the company had some insurance and was able to pay him a small some of money that he has been able to use to buy one of Casa Real's starter $10 000 homes. As he is blind he signed the contract with a thumb imprint.
4. Outcomes:
Deliver an entry-level, circular and environmentally friendly home which can be added incrementally as money becomes available.
Prove market acceptance of this building methodology.
Secure a relationship with a commercial bank and home loan provider to support the building and financial model.
Financial exit after three years when the commercial bank can home loan the home after proof of durability and owner income.
Photo: Empowa seeks significant scaling up similar housing projects.